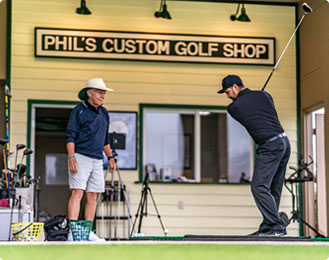 In addition to offering golf clubs from Ping, Cleveland, Bridgestone, Taylor Made and Adams at the Goose Creek Golf Academy we also build our own Putters, Wedges, Drivers, Hybrids, Fairway Metals and full sets of Irons on-site!
Through providing quality, AFFORDABLE clubmaking, we're able to offer a different and better way to buy golf clubs.
Phil's Custom Golf Shop inside The Nest at Goose Creek Golf Academy builds golf clubs to fit personal specifications – to the specifications that provide each golfer with the ability to make quality contact and send the ball on their preferred flight pattern the highest percentage of time.
About Custom Clubs
Pricing
About Custom Clubs
Custom Clubs
Custom Clubs is more affordable than you'd think.
Our primary goal is to build golf clubs that are easier for you to use. To accomplish that we first, through our fitting process, determine the head design and club specifications that work best for you. Then our club maker builds each club to those exact specifications.
The club heads we use are not knock-offs, they're original high quality designs from two of the most respected names in the golf club industry – Tom Wishon (wishongolf.com) and Dr. Jim Yeh (alphagolfclubs.com). We're continually building clubs for men, women, seniors and juniors. So the next time you're in the market for a new golf club (or full set of golf clubs), consider our original designs. Stop by the academy and give one a try. You'll be pleasantly surprised by the quality, performance and price!
Schedule Appointment
Pricing