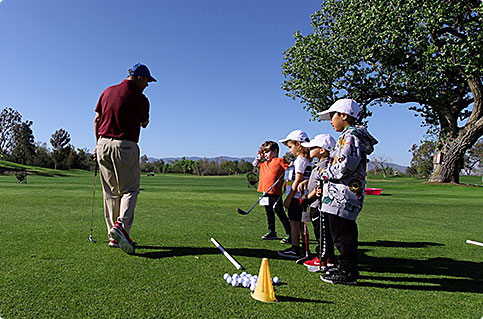 Goose Creek Golf Academy

believes that juniors learn best when the coaching is positive, fun, interactive, and personalized. That is why we keep our coach-to-student ratio small, have players of the same ages and skill levels learn together, and change the games and drills every week.
In each session students stretch, exercise, and practice putting, chipping, pitching, and full swing fundaments. During afternoon classes students also spend time on the Goose Creek Golf Course, learning playing skills, proper golf course etiquette, and the basic rules of golf.
For further information, contact Steve Tanis at 951-283-1615.
From beginners to more advanced students, we develop young golfers skills and techniques to play better golf.
Beginner Classes
Intermediate Classes
Jr. Program Benchmarks
FaQ
Beginner Classes
Beginning Junior Golfers
60 minute class for beginning juniors, ages 4 thru 13
Through drills, games, and purposeful practice, beginning students from 4 to 13 years of age learn basic ball-striking skills associated with putting, chipping, pitching, and the full swing.
In this class, the goal is to have fun, expose the student to the game of golf, and help the student acquire the ability and understanding needed to effectively play a 100-yard golf hole.
Our goal is to teach each beginning junior how to:
Complete our 6-hole Junior Putting Course in 12 shots or less.
Effectively chip the ball onto the putting green.
Effectively pitch the ball to a 25-yard marker.
Consistently drive the ball at least 75 yards onto a 40-yard wide fairway.
Once the student has mastered these basic skills, he or she can move on tothe Intermediate Junior Class and learn how to actually play golf!
Range balls during scheduled classes are included in the monthly rate and if needed we'll provide the clubs. This beginning class is the perfect way to introduce juniors to the game of golf.
Schedule & Cost
One 60 minute Saturday morning class per week – you can start anytime!
Classes are limited in size. To review the Class Schedule & Sign-up click below.
Intermediate Classes
Jr. Program Benchmarks
FaQ